Item code: MC021
Regular price
$39.96 USD
Sale price
$20.99 USD
Unit price
per
Sale
Sold out
Next time you and your pet cat/dog go out for a walk or pose for pictures, try wearing these long sleeve pull-over embroidered smiley face solid color breathable cotton sweatshirts / sweaters from our Furry Besties Matching Outfits Collection!

HOW TO ORDER A MATCHING SET
Pet clothes and owner clothes need to be purchased separately. If you wish to order a matching set for human(s) and pet(s):
Choose the color and size for Pet Only (Size S – 4XL) and add item to cart.
Choose the color for Owner Only (One Size) and add item to cart.
Repeat the last two steps for additional items.
SIZE
Before purchasing, please be sure to measure your pet for an accurate sizing and a perfect fit.
If any of the measurements are 'between' two sizes, we advise choosing the larger size.
Important: If your pet has a large chest, long hair, or is at the higher end of the size chart, you may order the next larger size to ensure a comfortable fit.
If your pet is growing, you may also want to order a size up for more room if you prefer. 
Please allow 0.5" - 1"(1 - 3 cm) inaccuracy in measurement.
Owner Size (One Size): 
Length: 61cm / 24.0"
Chest: 132cm / 52.0"
Pet Size: 
| | | | |
| --- | --- | --- | --- |
| Size | Neck | Chest | Length |
| S | 22cm/8.7" | 32cm/12.6" | 23cm/9.1" |
| M | 24cm/9.4" | 36cm/14.2" | 24cm/9.4" |
| L | 28cm/11.0" | 42cm/16.5" | 28cm/11.0" |
| XL | 34cm/13.4" | 46cm/18.1" | 34cm/13.4" |
| 2XL | 36cm/14.2" | 52cm/20.5" | 36cm/14.2" |
| 3XL | 38cm/15.0" | 56cm/22.0" | 38cm/15.0" |
| 4XL | 44cm/17.3" | 62cm/24.4" | 44cm/17.3" |
PRODUCT HIGHLIGHTS
These stylish and comfortable sweatshirts / sweaters/ shirts are a notch up from the traditional pull-overs:
Premium breathable cotton fabric gives the outfit a chic look and cozy feel.
Exquisite design featuring an embroidered smiley faces and classic solid colors, which give out a youthful, lively vibe.
Suitable for all seasons, especially spring, summer, and fall (and/or winter indoors).
Various colors (black, white, pink, blue).
Various sizes suitable for most cats, small and medium dog breeds such as French Bulldog, Pug, Bichon Frise, Boston Terrier, Chihuahua, English Bulldog, Corgi, etc.
Durable quality and machine-washable.
MORE DETAILS
Made from premium fabric! It is super cozy and comfy. WE GUARANTEE that you will love it!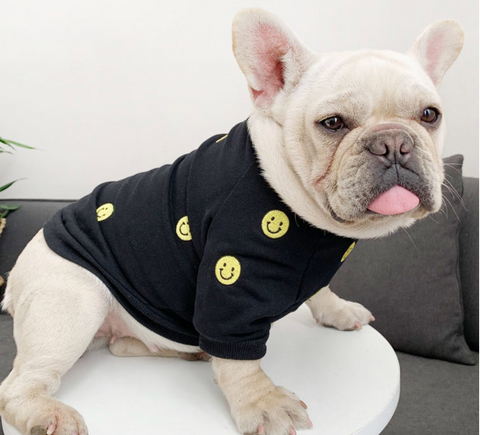 ONE SIZE FITS ALL FOR THE HUMAN SWEATSHIRT: We have finally found the perfect fit for all furry kid parents! This one-sized, unisex sweatshirt has a roomy fit style that is neither too tight nor too saggy. You can tuck the sweatshirt in to allow your waist line to be seen or let it hang loose, which gives a nonchalant, casual feel. Half-tuck is also a good little trick if you want to look more polished in a flattering way!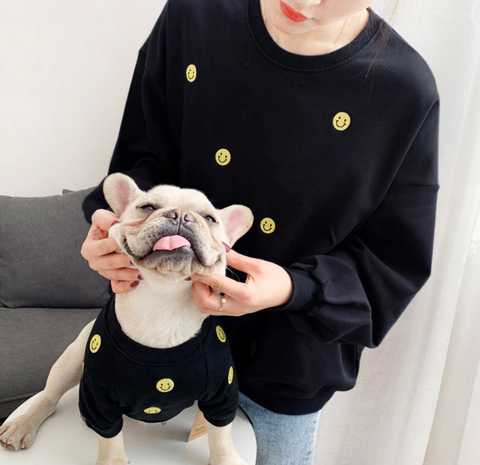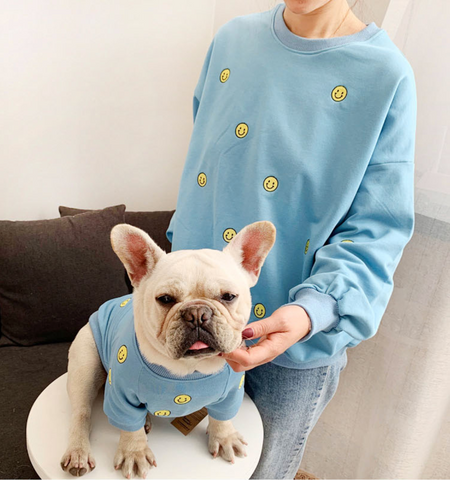 We recommend washing inside out in cold or warm water with like colors. Dry on low to medium heat or hang to dry. Please, do not use bleach or Oxyclean.
Promotion Ends Soon
To celebrate the sale of more than 1,000 Furry Besties Matching Outfits, we are offering a special discount!
SHIPPING
Free worldwide shipping! Limited time only!
Due to an overwhelming amount of orders we are receiving every single day, all orders are processed within 3-8 business days. For worldwide shipping, after 7 to 14 days (transit time varies), your order will arrive at your door. You may also choose priority shipping.
Arrival estimates are provided as a guideline only, not a guarantee. There may be a delay due to the COVID-19 global pandemic.
Please note that due to the many variations of monitors and browsers, product colors in photos may be slightly different from the actual item(s).
We take pride in our products as we believe they are amazing. However, we understand that buying things online can be daunting, especially for the first time, so we provide a 30-day money back guarantee from the date you receive our product.
If you are not 100% satisfied with your purchase, we will do whatever it takes to make sure you have a positive experience.
Share
View full details
Matching smiley sweatshirts
Pros
- Super cute
- Good quality material
- The doggy item fit very well on my toy poodle who is difficult to shop for because he is very long and skinny.
Cons
- it would be nice if the inside of the human sweatshirt was a bit softer as it is a bit of a stiff and coarse material
- sizing options for the human sweatshirt would have been nice, or at least an indication of the measuremens. It is huge on me even for an oversized look.
Solid Color Smiley Face Sweatshirt - Pet&Owner Matching Sizes
Solid Color Smiley Face Sweatshirt - Pet&Owner Matching Sizes
Solid Color Smiley Face Sweatshirt - Pet&Owner Matching Sizes
Solid Color Smiley Face Sweatshirt - Pet&Owner Matching Sizes